Introduction
Product Description :
Rotary dryer is mainly used in building materials industry or metallurgical industry , such as slag ,clay, coal powder, drying metal ore beneficiation leaching residue and other materials. In order to control the drying temperature, thermocouple is disposed on feeding and discharging device . It can display the temperature on feeding /end site by thermometer ,providing basis for controlling cylinder temperature (350-380 degrees).

Bailing drying machine adopts the new type of feed device, has the function of guiding, flow, raising material etc, can make the material in the dryer section size to full uniform, make the curtain of material into thin, all state ,make the material full contact with hot air flow to achieve the full utilization of the heat energy . Reasonable selection parameters of drying machine, its coal consumption and electricity consumption is less 10-15% than generally drier at least , yield rises over 10-15%, has been widely used in cement and mineral processing enterprises.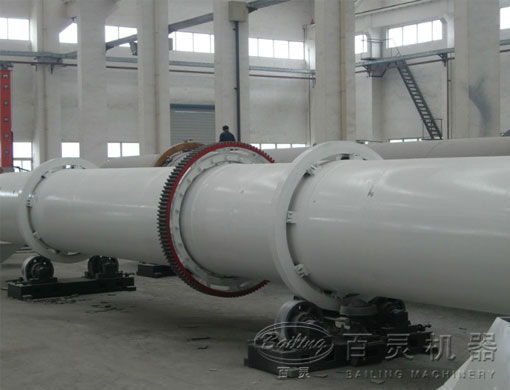 Features:
1. Widely used for drying material with humidity or granularity in the industries of mineral dressing, building material, metallurgy and chemical. It can be used for drying many kinds of materials such as limestone slag, coal powder, clay stone etc.
2. It has advantage of reasonable structure, high efficiency, low energy consumption.
3. It mainly consists of rotary body, raw material feeding plate, lifting blade, driving and supporting device, sealing ring and etc.
Parameter